hadleyhedsetz.com or hadleyheadsets.com Welcome! whatever way you spell it! *Pg 3 Next
HADLEY HEDSETZ HOLDS PHONES AGAINST HEADS
WITHOUT PLACING YOUR HANDS ON HOLD!
No need to hold the phone up to your ear again
Save hours on the phone by DOIN' STUFF at the same time!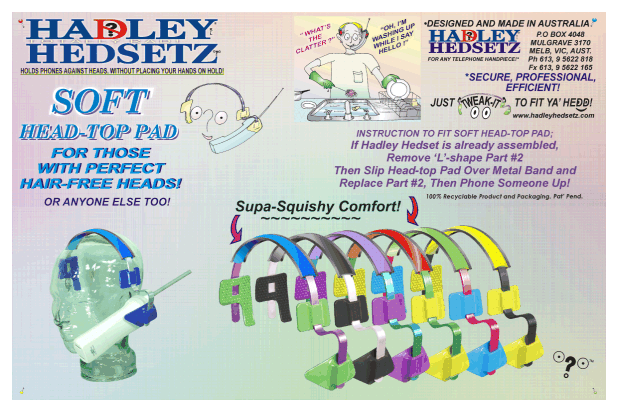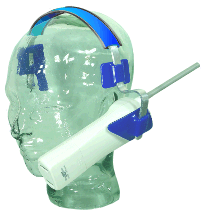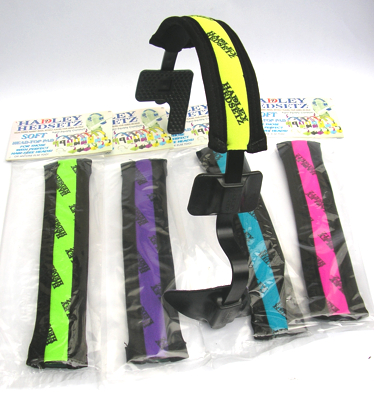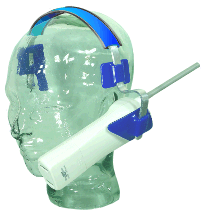 Soft Head-Top Pad is Screen-Printed with Many Hadley Hedsetz logos and then Professionally Sewn-Assembled
from Washable, Neoprene, Supa-Squishy Soft Stuff!

Priceless Extra Comfort for $8 Each or $7 with your purchase of a Hadley Hedset.
Include $2 Postage for just the head-top-pad or combine with Hadley Hedsetz purchase, see below.


INSTRUCTION TO FIT SOFT HEAD-TOP PAD;
If Hadley Hedset is already assembled, Remove 'L'-shape Part #2 Then Slip Head-top Pad Over Metal Band and Replace Part #2, Then Phone Someone Up!
*Maybe re-tweak the HADLEY HEDSET when fitted with the Soft Head-Top Pad, to your head shape!


Just how much advantage can HADLEY HEDSETZ provide? Let Us Know!
If ya' lucky, you can have your usage scenario illustrated and added to the site!
*SEE ALL ILLUSTRATIONS LARGE SIZE

For more info' call "Glenn Speaking" at Hadley Hedsetz on, Aus (03) or (Intnl+613) 9 5622 818 or email on hadley@hedsetz.com
*Years of Priceless Hadley Hedsetz Hands-Free Convenience? Under $30

Enjoy, Let us know how you have saved time (short of growing a third hand) to get on with "Doin' Stuff" while on the phone

*P3 Mini Bend Hadley Hedsetz *P4 Thin Phone Spacer *P5 Packs and Packaging *P6 HH T-Shirts *P7 Prices and Order Form *P9 Twist-a-Tweak *P1 Home *Back To Top of Page
© Hadley Resultants 2007